Consumer Goods Retailer - Case Study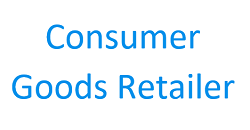 Service featured
Documentation of IT Processes and Interfaces
Company profile
Our client is a multinational consumer goods retailer with established operations as far afield as Taiwan, China and Hong Kong. With over 200 stores in the UK and Ireland, they have 25,000 existing products, are introducing up to 10,000 new products every year and sell to more than 11 million customers a year.
The challenge
Our client has a predominantly in-house developed IT suite which, over the years, has been developed without the required documentation and process maps that would allow robust support of the systems. It is recognised that this creates a risk to the business and means an over-reliance on key individuals within the IT department. The lack of documentation also inhibits the ability to enhance and integrate new systems, which will ultimately reflect on the possibility for growth.
They required our help to drive a process (RFP) to select a service provider with the capability to document and map the IT interfaces, data flow and processes, including those externally provided areas of the IT suite.
How Quantum Plus helped
Quantum Plus managed the full end to end RFP process to find the service provider, allowing the IT Director to provide a 'light touch' approach.
Quantum Plus used its tried and tested methodology to capture the objectives, write the service definition and RFP as well as providing a contractual term sheet to aid the contractual negotiation, selecting the service provider long list and issuing the RFP to suppliers.
Quantum Plus managed the flow of service provider clarification questions and facilitated and scored the RFP responses to deliver a short list of suppliers who presented their solution to members of the executive team.
Quantum Plus facilitated the selection of the successful service provider and negotiated the Master Service Agreement to the benefit of the client.
The outcome
The client and the service provider have commenced a long term partnership, allowing the client to be flexible in the approach to providing the service provider with additional deployment.